Qualified experienced teachers
Passionate educators
Dedicated professionals
A most dynamic team
Innovative teaching methods
Learner-centered approach
Full professional support

Rosetta Stone® Advantage portal
Thousands of hours of content
Small-group classes
Private and semi-private courses
Program tailored to meet your needs
Weekly tutoring session
In-person or online training

To learn for real !
Flexibility - Reliability - Efficiency
A personalized approach
A method that meets your needs
World's best online language portal
Technology at your service
Registered training institution
Multimedia learning pedagogy
An unrivaled quality-price ratio
Language Services: Governments

A Complete and Effective Language
Training Solution
AFSL Pro provides language training for civil servants at the municipal, provincial and federal levels. Over the years, we have developed a solid expertise in government language training and our various courses and programs can help every government employee to reach their language objectives.
Our language training is:
Personalized and flexible

Result-oriented and based on relevant, varied and up-to-date teaching material

Assisted by experienced teachers who design customized learning plans to maximize the time spent in training

An interesting combination of hybrid and blended learning that can be offered face-to-face or online
Private Courses for Public Servants
Whether you need to improve your French or English or another language for personal or professional reasons, private courses for government employees will enable you to make progress at your own pace while focusing on your specific needs.
Our pedagogical team will provide a customized language training program that will maximize both training time and your language development.

Group Courses (max. 8)

You and your coworkers would like to take advantage of dynamic and interactive group language training? We will make sure that all the participants in your small group (max. 8) are at the same language level and have similar language objectives. With online training, it is even possible to group, in the same class, participants who are in different locations and time zones.
Our pedagogical team will then customize a language learning plan, which is based on the communicative approach, to more closely meet the group members' needs and speed up your learning progress.
The training can take place either at your office or online.
Most of our courses include a six-month Rosetta Stone Advantage® (RSA) license.
Public Service Commission (PSC) Exam Preparation Program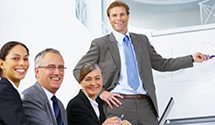 AFSL Pro provides language training to the civil servants working at the federal level to help them best prepare for the PSC exams.
We can help you with your exam preparation and maximize your chances to succeed in the reading comprehension, written expression, or oral interaction sections of the tests.
This Special Training:
Will be taught by an experienced and competent teacher who understands what you need to work on to succeed at the test;

Will help you gain maximum practice with the format of the exam (exam simulations) and benefit from the guidance of your teacher
Customized courses: contact us to discuss your particular needs. We will be happy to create for you a unique learning formula that will exceed your expectations.
For More Information about our Rates
and Services

Free Evaluation:

Ask for a FREE evaluation of your language training needs

Contact Form:

Telephone:

- (514) 439-7878 (Montreal)

- 1 (855) 439-7878
(toll free for outside of Montreal)

Fax:

(514) 439-7676

Email: